On Saturday, October 23rd Hip Hop lost a pioneer and activist. General Jeff was active in the 80s and 90s west coast hip hop scene known for being a hype man for rap duo group Rodney O & Joe Cooley and later served DJ Quik's bodyguard.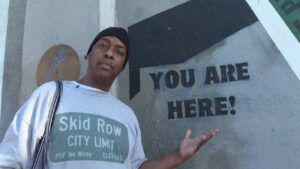 In addition to being in the hip hop scene, General Jeff was also an neighborhood activist and moved to Skid Row to better help the unhoused population in the area. He ran campaigns to help improve policies for the unhoused community. We also credit him for creating the well-known 3 on 3 basketball league in Glady's Park. Giving people the opportunity to engage in something positive and uplifting.
Get to know General Jeff a little bit better in this interview, he talks about his history, mental health and more. He was inspiring and empowering and we must carry on his legacy.
"We need that hip hop push, forget pushing your latest album and your mixtape. We need to push on these social issues out there." – General Jeff
Many artists took to Twitter to express their tributes:
Sad news about the passing of General Jeff. Good dude who spent a lot of time looking out for the less fortunate. pic.twitter.com/eooNSVmJUq

— Ice Cube (@icecube) October 22, 2021
Rest in power General Jeff. You always kept it 💯 #Respect #Love #SolidDude 🙏🏾❤️ pic.twitter.com/mPxYA7U2RC

— LLCOOLJ (@llcoolj) October 22, 2021
𝐑𝐞𝐬𝐭 𝐢𝐧 𝐏𝐨𝐰𝐞𝐫 𝐭𝐨 𝐭𝐡𝐞 𝐇𝐢𝐩 𝐇𝐨𝐩 𝐏𝐢𝐨𝐧𝐞𝐞𝐫 @skidrowgeneraljeff 🙏🏾🕊 pic.twitter.com/fTMOwj3Jp3

— PUBLIC ENEMY (@PublicEnemyFTP) October 25, 2021
Sources:
https://la.curbed.com/2016/3/10/11191448/general-jeff-mayor-skid-row