Alexander Miles:  Improved Method for Opening and Closing Elevators
Ever taken an elevator? You can thank Alexander Miles for his contributions to the open and close function of the elevator!
Alexander Miles, who contributed to the elevator industry, was an African-American inventor of the late 19th century who transcended racial barriers in the United States.  Alexander Miles, born in Duluth, Minnesota, on May 18, 1838, designed an elevator that was able to open and close its own doors and the elevator shaft doors. When the elevator would arrive or depart from a given floor, the doors would move automatically. Previously, the opening and closing of the doors of both the shaft and the elevator had to be completed manually by either the elevator operator or by passengers, contributing greatly to the hazards of operating an elevator.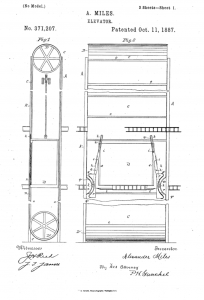 Alexander Miles attached a flexible belt to the elevator cage, and when the belt came into contact with drums positioned along the elevator shaft just above and below the floors, it allowed the elevator shaft doors to operate at the appropriate times. The elevator doors themselves were automated through a series of levers and rollers.  The influence of his elevator patent is still seen in modern designs and today the automatic opening and closing of elevator and elevator shaft doors are a standard feature.