Wilma Rudolph – Olympic Goldmedalist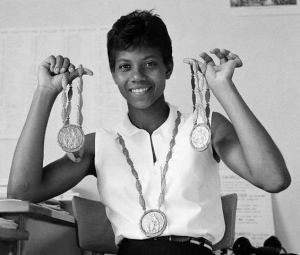 Eleven seconds flat—that's how long it took for Wilma Rudolph (1940–1994) to streak to victory in the 100-meter sprint and claim Olympic gold at the 1960 Summer Games in Rome.
Nicknamed "Skeeter," the 20-year-old sprinter triumphed in the 200-meter sprint and the 4 x 100-meter relay as well, becoming the first American woman to win three gold medals in track and field at a single Olympics. On October 4, 1960, Clarksville honored Rudolph's victories in the city's first-ever integrated event because Rudolph refused to attend their previously planned segregated event.
Her victory was not something that came easy though. Rudolph was born at only 4.5 pounds and in childhood contracted many illnesses that almost killed her. At 4 years old she contracted Polio – a virus that gave a scare to many parents with young children and was considered an epidemic.
She became paralyzed in her left leg. Her family did their own at-home treatments because it's all they were able to do financially. They massaged her leg multiple times a day and after years of massaging her leg, the treatments had been a success; leading her on the path of becoming an Olympic athlete.
"When the sun is shining I can do anything; no mountain is too high, no trouble too difficult to overcome." -Wilma Rudolph.