DROP of History behind Women's HERstory Month
Women's History Month had its origins as a national celebration in 1981 when Congress passed Pub. L. 97-28 which authorized and requested the President to proclaim the week beginning March 7, 1982, as "Women's History Week." Throughout the next five years, Congress continued to pass joint resolutions designating a week in March as "Women's History Week." In 1987 after being petitioned by the National Women's History Project, Congress passed Pub. L. 100-9 which designated the month of March 1987 as "Women's History Month." Between 1988 and 1994, Congress passed additional resolutions requesting and authorizing the President to proclaim March of each year as Women's History Month. Since 1995, presidents have issued a series of annual proclamations designating the month of March as "Women's History Month." These proclamations celebrate the contributions women have made to the United States and recognize the specific achievements women have made over the course of American history in a variety of fields.
How THE DROP 104.7 is celebrating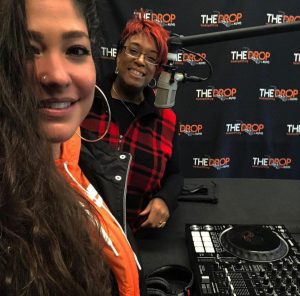 For the entire month of March, 104.7 THE DROP will share on-air vignettes, social media posts, website blogs, community partnerships, underwriting support and more as we create a more equitable Colorado by amplifying the HERstories of American women. 104.7 THE DROP is also excited to welcome a cast of female DJs and turntablists to mix during both the 8AM Mix Block and the 5 o'clock Traffic Jam.  We'll talk about the challenges women face in this competitive field and how to get award and win recognition. Be sure to also be on the lookout for special Women's History Month Therapy Thursdays!
Do you have someone in mind we should know about? Amerykah Jones invites you to share and highlight community members (they do not have to be famous) that have been a great part of support and uplift for those around them. It could be a friend, a family member, a teacher, or even one's children. Text the DROP text line at 303.893.3767 or send a brief email with your recognition to thedrop@kuvo.org!
Featured Image Credit: The Denver Post