Hip-Hop pioneer and influencial rapper, Shaun Shiller Fequiere most known by 'Kangol Kid' has passed away at age 55 of Colon Cancer. An
NPR
article stated: "He frequently shared updates about his health on Instagram and photos from his hospital bed with visitors from the hip-hop community, including rappers
LL Cool J
and fellow UTFO member Doctor Ice."
He spoke openly about what he was going through medically and urged fans to get screened. "All people of average risk should begin screening for colorectal cancer at age 45. 
Screening is safe, and options are available
." In an interview with
colorectal cancer alliance,
Kangol opened up wanting to challenge the way many Black men deal with this disease — which, he said, is with "silence and suck-it-up attitudes."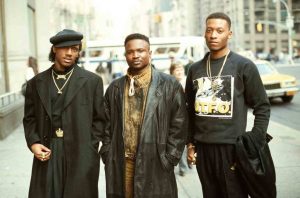 Kangol Kid was part of a pioneering era of New York City rap in the early 1980s. He started out as a breakdancer and worked with former UTFO member "Doctor Ice". Before UTFO was formed, both Kangol and Doctor Ice had been dancers for the Hip Hop group Whodini. After dancing, they decided they wanted to embark on their own musical journey, but
stated in a past interview with Washington Post that they "don't want to just be known as a Rap Group, but as a group that can do anything."
After UTFO had formed, it didn't take them long to find a label with their networks in the music industry, however; it was not all a 'Fairytale Lover' of a process. They struggled in the beginning, their title track of their self-titled debut album performing badly in terms of numbers. The b side song "Roxanne, Roxanne" received a lot of airplay. This whole song "Roxanne, Roxanne" eventually became sort of… a meme? Memes weren't a thing back then, but culturally the song "Roxanne, Roxanne" became a musical cultural phenomenon. They saw the humor in a lot of what they did. They took the original beat for "Roxanne, Roxanne" and created "Roxanne's Revenge" which radio stations loved. They thought this was hilarious, so they took it a step further and created "The Real Roxanne" featuring Female MC Elease. People claimed to know "Roxanne" and made other assumptions about who she could be. It was really just a song all along, that could nowadays be constituted as a 'meme'.
The name 'Kangol Kid' came from him wearing Kangol hats and ended up with a brand deal with the Kangol hat brand. He had a significant influence on the Hip Hop scene and the music scene at the time. To this day, Kangol's influence on Hip Hop is still prevalent.
Many took to social media to express their condolences and love for Kangol Kid:
Rest well Legend. Your infectious spirit will be missed. My deepest condolences to his wife Tajiri and his children 🙏🏽. #KangolKid #legend pic.twitter.com/fDOApXjyIk

— OLIVIA (@1andonlyOlivia) December 18, 2021
View this post on Instagram