Don't fret! THE DROP 104.7's Museum Mondays with DMNS are sure to strike a chord in you! Okay, enough of the puns…we don't want to get picked on…
We are excited to announce the Denver Museum of Nature and Science exhibit; "GUITAR: The Instrument That Rocked The World". This exhibition takes you on a fascinating exploration of the science, sound, history and pop culture behind the world's most popular instrument. It gets even better! This exhibit will feature local Colorado artists and LIVE performances. #LocalLove
This exhibition is FREE with museum admission! 
The exhibition celebrates many facets of this iconic instrument, from its origin and continued evolution to the music it creates and the cultural impact it has. Explore STEAM concepts like sound waves, frequency, mathematical scales, engineering and more through a wide range of hands-on experiences.    
Take in the exhibition's collection of more than 70 instruments—ranging from the rare and antique to the wildly popular and innovative.  And don't miss your chance to strum the world's largest playable guitar, measuring in at 43.5 feet long and certified by Guinness World Records!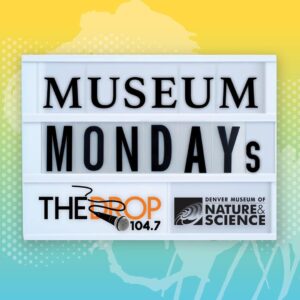 Tune in every Monday for a very special guitar themed 'Museum Monday' for fun facts, giveaways and to learn some awesome things about the Denver Museum of Nature and Science (DMNS).
Learn more about the exhibit HERE.
Read more about the Denver Museum of Nature and Science HERE.