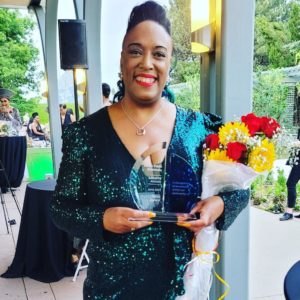 Our very own Program Director and GM of THE DROP Nikki Swarn is the recipient of the Asante award, an acknowledgment of Black Excellence in the community! On June 17th she was officially recognized at the sold-out "Strange Fruit of Black Excellence" gala that took place at the Denver Botanic Gardens.
In Swahili, the word "asante" means thank you. In Ghana, the name "asante" refers to the tribal group or its people. Today, we recognize an individual who brings the community together without asking for anything in return.
Nikki Swarn, an ally in the Queer community, was selected by the Black Pride Committee because she is the first female African American GM/Program Director of a radio station in Colorado! She represents dreams manifested for other minority women in the industry.