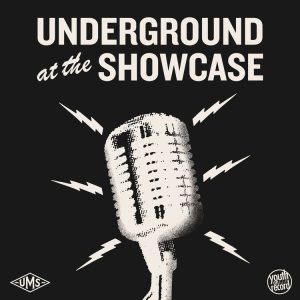 Youth on Record has announced the official Underground Music Showcase (UMS) pocast called "Underground at the Showcase" is now available on ALL major streaming platforms! The podcast has 14 episodes and includes interviews with UMS performers from the previous summer.
The show was produced by five youth interns from Youth on Record. Giving people the opportunity to learn and grow is incredibly important! The show was also edited and mixed by interns Akello Stallings and Tierney Worthen. The hosts for this podcast are: Genevieve Glimp, Danny Acree, and Lauren Francisco. Additional music was produced by LXXXVII, a 2022 graduate of Northeast Early College. YOR staff David Ladon and Jelie Jones are the podcast's Executive Producers.
Creating this podcast during UMS was an absolute blast. Jumping from conversation to live show for each of our guests was an amazing experience that everyone missed out on – until now – Coach Jelie Jones, YOR's Young Creative Coach and executive producer of Underground at the Showcase.
In "Underground at the Showcase" you can expect to hear conversations with festival acts like Ramakhandra, Bluebook, Schama Noel, Immigrant's Child, and Tres Leches.
The podcast was recorded live at Mutiny Information Cafe and hosted by young people from Colorado (among others). Through conversations about songwriting, motivation, community, family, and the return of live music in a post-covid world, the podcast gives the opportunity for listeners to experience moments of levity, reflection, and inspiration.
In the first episode, featuring local artist Joseph Lamar he says:
'Start where you are' is probably the best advice that I could give. A lot of times when people start out doing something, they can stop themselves because they feel like, 'I need to have this or that,' in order to get started. And so it becomes procrastination. You never get to it because it's always out of reach. But I would say to just start where you are with what's available to you, with whatever resources or skills you have. The most important thing is starting.
You can find this podcast on all major platforms, including Spotify, Apple Podcasts, Overcast, Google Podcasts, and Amazon Music.
Click here to learn more about the podcast and Youth on Record Podcasting 
Click here to learn more about Youth on Record.
Click here to learn more about Underground Music Showcase
Want more music news, updates and more?

 

Subscribe to THE SAMPLE

, our E-Newsletter in your inbox every other Thursday!